Italian Style Meatloaf or Patties Seasoning
Title:
Italian Style Meatloaf Seasoning
SKU:
MEAT-ITALMEATLOAF-RG
Yield:
2 Loaves OR 2 batches of patties (10-12)
Description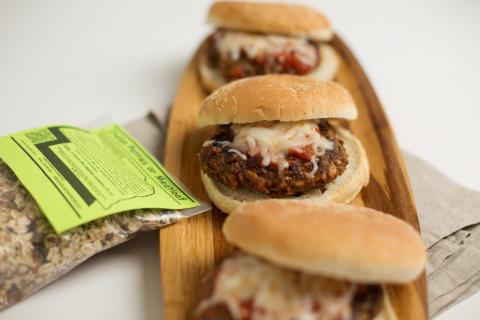 Directions
Recipe for one batch: Combine 1-1/2# ground beef, 1-1/2 cups seasoning mix, 1 egg, and 1/2 cup milk and hand mix well. For Patties: Form 5-6 patties (or desired number) and grill or pan-fry on stove until no longer pink inside. Top patties with mozzarella cheese and marinara and serve on a bun, as desired. For meatloaf: Spread in a 9" x 5" loaf pan. Bake at 375 degrees for 40-45 minutes or until no longer pink inside. Drain fat. Top with shredded mozzarella or parmesan cheese and cook 5 more minutes or until cheese melts/browns. May also drizzle marinara or pizza sauce on top as desired.
Ingredients
Oatmeal, dried onion, tomato powder, parsley, dried green peppers, beef bouillon (contains MSG), garlic powder, italian seasoning, and salt.