Hearty Crockpot Beef Stew
Title:
Hearty Crockpot Beef Stew (lg)
SKU:
SOUP-HCROCKBEEFSTW-LG
Description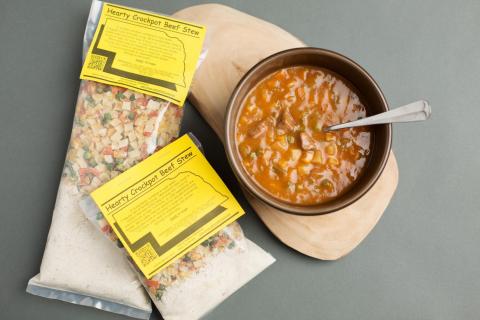 Directions
In a large crockpot, combine 8 cups water, 2 regular cans of tomato soup, 2 pounds browned stew meat or cubed roast and entire bag of soup mix. Cook on low 6-8 hours or high 3-4 hours, or until vegetables are tender. More water may be added for desired thickness. **Could also cook on a stovetop in a large pot, simmering 1-2 hours until meat & vegetables are tender, stirring occasionally.
Ingredients
Dehydrated potatoes, flour, dried corn, dried green peas, dried carrots, dried onions, dried celery flakes, beef bouillon (contains MSG), dried chives, seasoning salt, and black pepper.