Bacon Cheddar Biscuits
Title:
Bacon Cheddar Biscuits
Description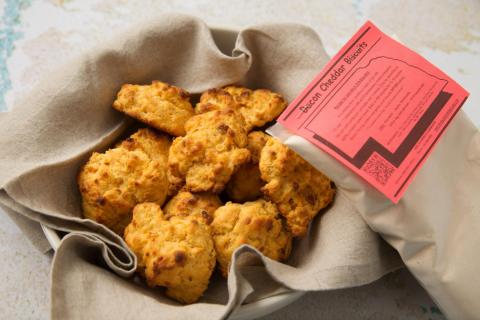 Directions
Recipe for one batch (8-9 biscuits). In a mixing bowl, combine 2 cups of mix with 1/2 cup + 1 tablespoon milk and 6 tablespoons melted margarine. Stir just until combined. Let batter rest 1 minute. Drop by spoonfuls on lightly greased cookie sheet. Bake at 450 degrees for 12-16 minutes. Brush 1/4 cup melted margarine over biscuits AFTER baking. **To prepare entire bag, double the above recipe.
Ingredients
Flour, dried cheddar cheese powder, dried bacon flavor bits, sugar, baking powder, seasoning salt, and garlic powder.