Apple Streusal Quick Bread
Title:
Apple Streusal Quick Bread
SKU:
QUIC-APPLESTRUSQUICK-RG
Description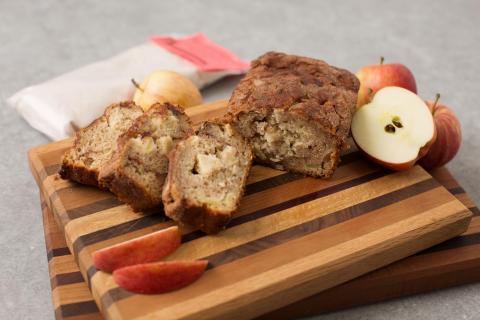 Directions
Recipe for ONE loaf: Combine 2 cups bread mix (set small bag of cinnamon/sugar mixture aside), 2 eggs, 1/2 cup water, 1/4 cup oil, and 1 large peeled & diced apple. Mix until well combined. Spread 1/2 the batter in a greased 9" x 5" loaf pan, sprinkle 2 tablespoons of smaller bag of ingredients over batter. Spread remaining batter over cinnamon/sugar layer, then sprinkle 2 more tablespoons cinnamon/sugar mixture over top. (This will leave 1/4 cup cinnamon/sugar mix for 2nd loaf.) Bake at 350 degrees for 35 - 40 minutes. Cover lightly with foil last 10 minutes of baking. Cool before removing from pan.
Ingredients
Flour, sugar, instant vanilla pudding, cornstarch, baking soda, cinnamon and salt