Beef n' Cheddar Chowder
Title:
Beef n' Cheddar Chowder (lg)
Description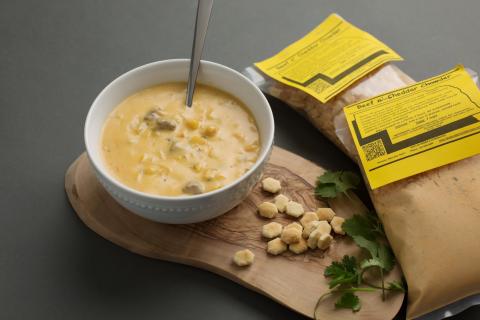 Directions
Brown 2# ground beef or stew meat in a large saucepan or kettle and then drain. Add 7 cups water, 4 tablespoons margarine and bring to boil. Slowly stir in entire bag of soup mix. Reduce heat to low, cover and simmer approx. 45 minutes, stirring occasionally, until potatoes are tender and soup has thickened. More water may be added for desired consistency. May crock pot on LOW for 3 hours, stir occasionally. Optional: Add a can or two of drained, canned corn!
Ingredients
Dehydrated potato pieces, creamer, flour, cheese powder, chicken bouillon (contains MSG), dried carrots, dried onion, dried celery, parsley and seasoning salt.