Beef Pot Pie Soup
Title:
Beef Pot Pie Soup (lg)
Description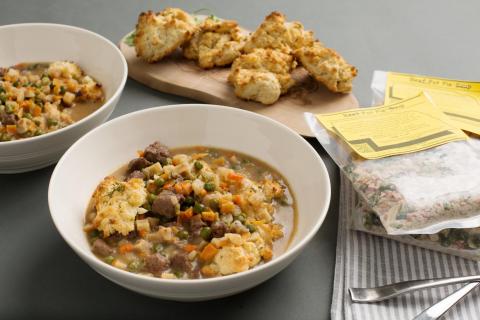 Directions
In a large kettle brown 2 lbs cubed roast or stew meat. Add 8 cups water, and 1/4 cup margarine. Heat until margarine melts and slowly stir in entire bag of soup mix. Reduce heat to low and simmer approx. 30-40 minutes, stirring occasionally, until vegetables are tender and soup has thickened. Do not Boil! May also crockpot on LOW for 3-4 hours. Optional: Serve over a fresh baked biscuit. (Great leftover idea too!- aka 'Beef Ala King')
Ingredients
Dried potato pieces, dried peas, dried carrots, flour, beef bouillon (contains MSG), dried onion, dried celery, seasoning salt, and black pepper.