Chicken Pot Pie Soup
Title:
Chicken Pot Pie Soup (Lg)
Description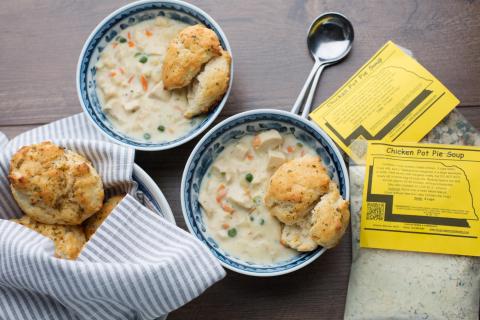 Directions
Combine 2 cups cooked, cubed chicken, 6 cups water, 2 cups milk, and 1/4 cup margarine in a large sauce pan or kettle. Heat slowly until margaine melts, but DO NOT BOIL. Slowly stir in entire bag of soup mix. Reduce heat to low and simmer approx. 30-40 minutes. stirring occasionally. May also crock pot on LOW 3-4 hours. OPTIONAL: Serve over a fresh baked biscuit. (Great leftover idea "Chicken Ala King")
Ingredients
Dried potato pieces, creamer, dried peas, dried carrots, flour, chicken bouillon(contains MSG), dried onion, dried celery, seasoning salt, and black pepper.