Creamy Mac n' Cheese Soup
Title:
Creamy Mac n' Cheese Soup (lg)
Description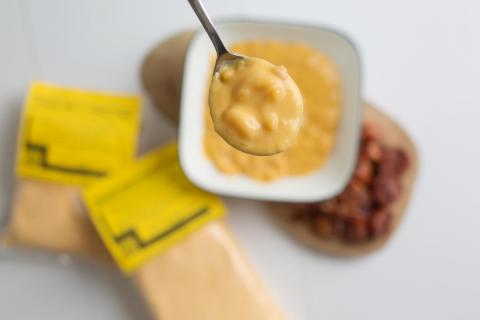 Directions
Combine 8 1/2 cups water and 1/4 cup margarine in a large saucepan or kettle and bring to a boil. Slowly stir in entire bag of soup mix. Reduce heat to low and simmer approximately 45 minutes, stirring occasionally, until pasta is tender and soup has thickened. Not recommended for crock pot, stovetop only. Options: add 1 to 2 cups diced ham, sliced hotdogs or Polish sausage during last 10 minutes of cooking. Could also add a large can of drained, diced tomatoes. Or top bowls with cooked, crumbled bacon before serving.
Ingredients
Macaroni, creamer, flour, cheese powder, chicken bouillon (contains MSG), dried carrots, dried onion, and seasoning salt.