'Lori's Favorite' Ham & Bean Soup (Naturally Gluten Free)
Title:
Lori's Favorite' Ham & Bean (lg)
Description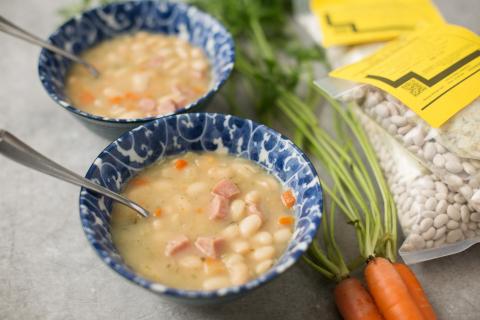 Directions
In a large kettle, pour in beans (not bagged seasonings). Cover with water and let soak overnight. Drain, rinse and return to kettle. Add 8 cups water, bagged seasonings and 2 - 3 cups cubed ham. Cover and simmer 2 - 3 hours or until beans are tender. Can also crock pot on LOW 6-8 hours

Fast n' Easy Ham & Bean Seasoning ONLY:
Recipe for ONE batch (entire bag makes 2): In a medium kettle, measure 3 cups water and bring to a boil. Slowly stir in 1 cup of soup seasoning, 2 cans (15.5 oz.) of Undrained northern beans and 1-2 cups diced ham. Reduce heat and simmer, uncovered for approximately 60-90 min, stirring occasionally. May also crockpot on LOW for approximately 4 hours.
Ingredients
Northern beans, potato flakes, chicken bouillon (contains MSG), dried onion, dried carrots, dried celery, parsley, black pepper and garlic powder