Perfect Meatloaf or Patties Seasoning
Title:
Perfect Meatloaf or Patties
Yield:
2 Loaves OR 2 batches of patties (10-12)
Description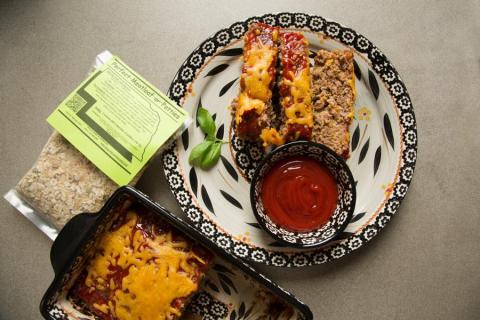 Directions
Recipe for one batch: Combine 1-1/2# ground beef, 1-1/3 cup seasoning mix, 1 egg, 1/3 cup ketchup and 1/2 cup milk and hand mix well. For Patties: Form 5-6 patties (or desired number) and grill or pan-fry on stove until no longer pink inside. Top patties with cheese and ketchup and serve on a bun, as desired. For Meatloaf: Spread in a 9" x 5" loaf pan. Bake at 375 degrees for 40-45 minutes or until no longer pink inside. Drain fat. Top with cheese and ketchup, if desired, cook 5 minutes more or until cheese melts.
Ingredients
Oatmeal, dried onion, dried celery, beef bouillon (contains MSG), dry mustard, salt, garlic powder, thyme and basil.