Rich n' Creamy Stroganoff Soup
Title:
Rich n' Creamy Stroganoff (lg)
Description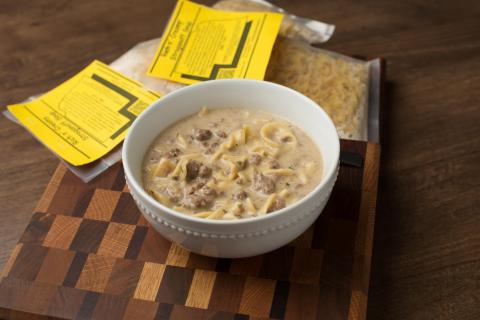 Directions
In a large kettle, brown 1 - 1/2 lb stew meat, cubed roast or ground beef. Add 5 cups water, 4 cups milk and 2 tablespoons margarine. Heat slowly over low temperature until margarine melts. While stirring, slowly add entire amount of soup mix. Reduce heat and simmer, uncovered, for 30 minutes. Optional: Add one can (13 oz.) drained mushrooms and 1/2 cup sour cream. Not recommended for crock pot, stovetop only
Ingredients
Noodles, beef and chicken bouillon (contain MSG), dried onion, flour, creamer, tomato powder, black pepper, onion powder, garlic powder, paprika, chili powder, turmeric and parsley.