Tomato Basil Bisque Soup
Title:
Tomato Basil Bisque Soup (lg)
Description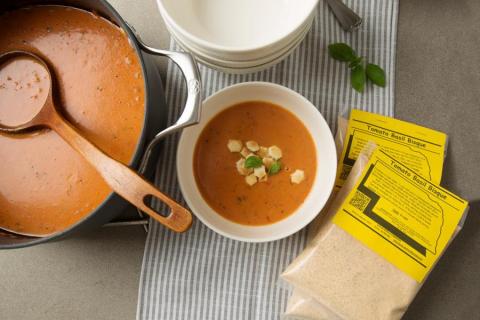 Directions
Combine 6 cups water, 2 cups milk and 1/4 cup margarine in a large saucepan or kettle and heat, but DO NOT BOIL. Slowly stir in entire bag of soup mix, a 15 ounce can of tomato sauce, and one regular can of tomato soup. Reduce heat to low and simmer approximately 60-90 minutes, stirring occasionally. Can also crock pot on HIGH for 3-4 hours or LOW 6 hours Optional: for a smoother texture, puree in a blender before serving.
Ingredients
Creamer, dry milk, dried carrots, tomato flakes, flour, chicken bouillon(contains MSG), dried onion, cheese powder, tomato powder, dried celery, parsley, and basil.